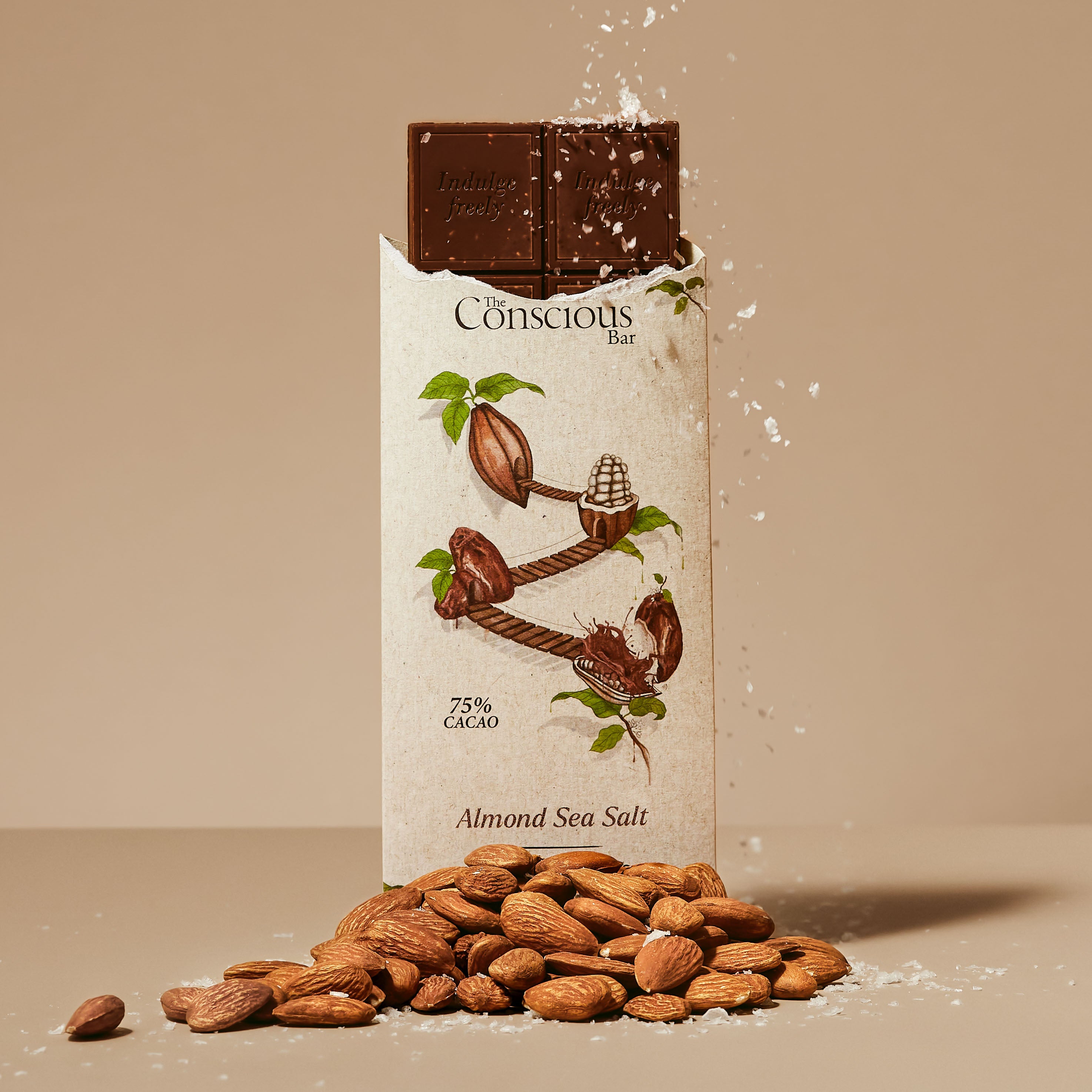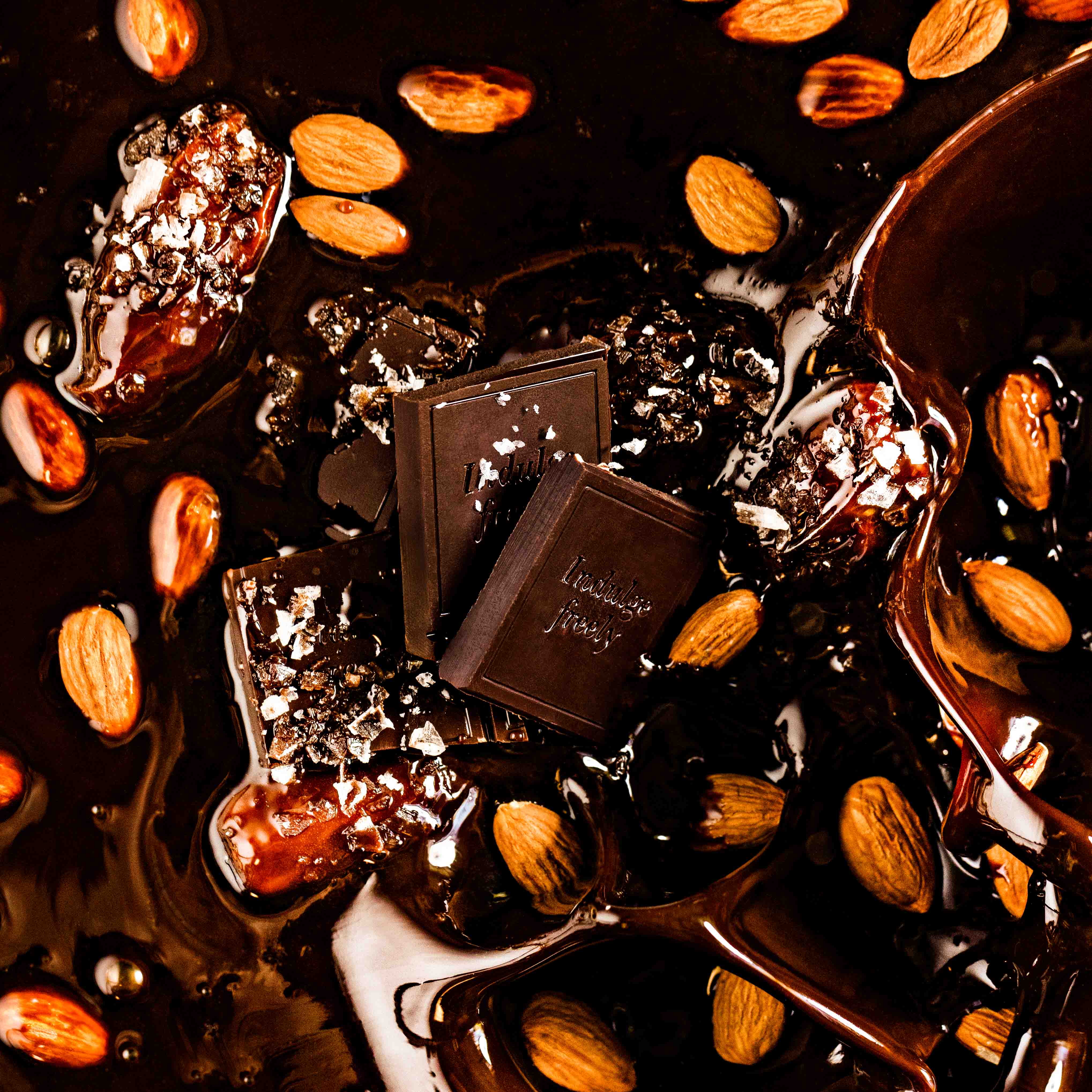 Almond Sea Salt
---
ORDER 5+ BARS & GET 10% OFF
Sweet & savory, where the gentle crunch of almonds meets the subtle dance of sea salt.

Our delicate roasting process unlocks the natural flavors of the almonds, unveiling subtle hints of toasted warmth and a delightful aroma. With each bite, you'll savor the harmonious interplay of rich smooth chocolate, small crunches of almonds and a hint of fine sea salt. 

Ingredients: Organic Cacao Beans, Organic Dates, Organic Cacao Butter, Organic Almonds, Sea Salt

Note: It's Summer Time! That means lots of great sunshine and also much higher temperatures. To preserve  the quality of your bars, please note that we ship orders Monday through Thursday to avoid potential weekend delays.
Organic Cacao, Organic Almonds, Organic Dates, Organic Cacao Butter, Sea Salt.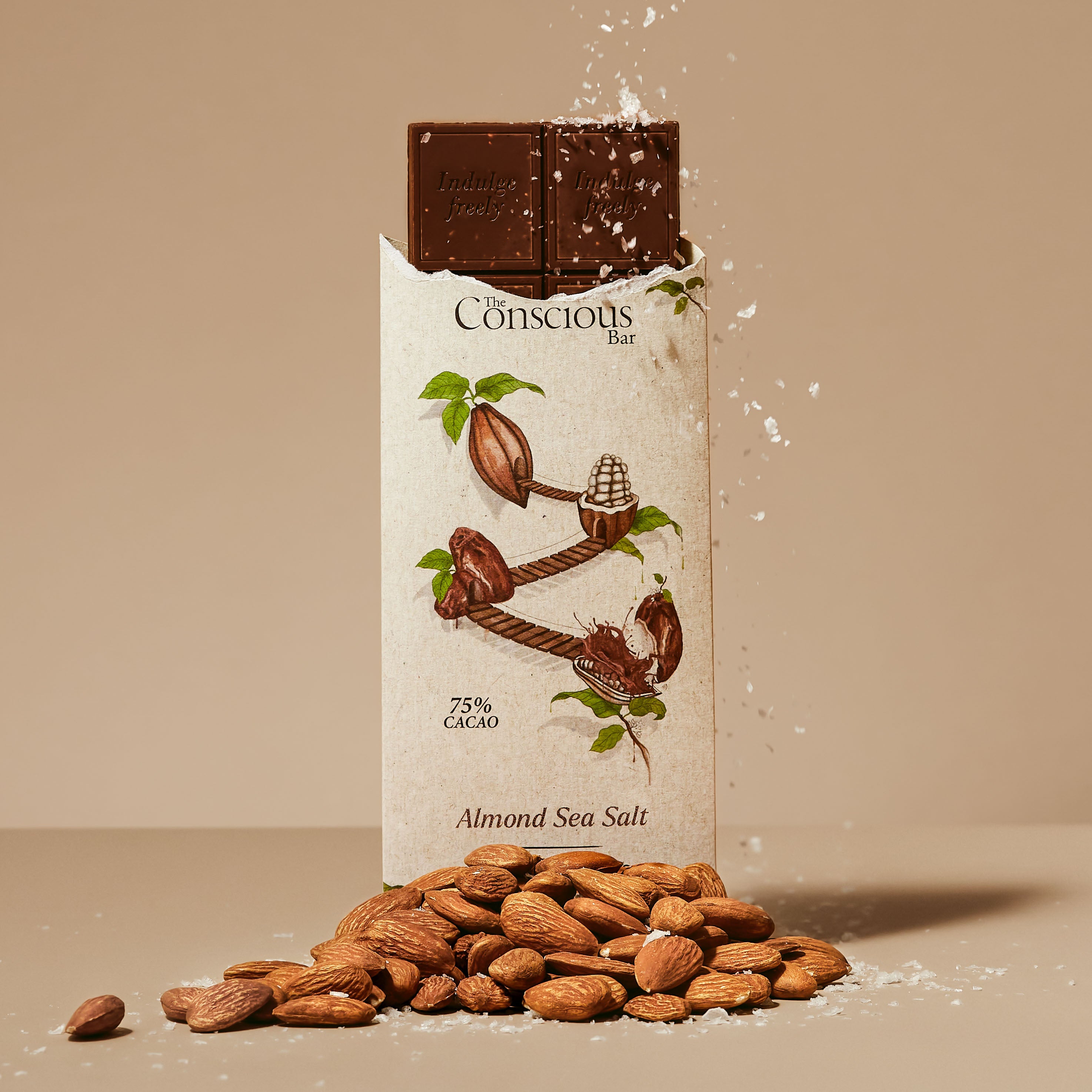 BUNDLE & SAVE!
ORDER 5+ BARS & RECEIVE 10% OFF
View all

This product is rated 4.7 of 5.0 stars.
It has received 20 reviews.
Creamy and Delicious!
I accidentally ordered the Almond Sea Salt Dark Chocolate Bar. In the past with other chocolate bars containing nuts, often the nuts were rancid and so I never buy bars with them. I thought I ordered Dark Chocolate Sea Salt and was very surprised when they arrived. I actually thought The Conscious Bar had made a mistake, but nope, it was me. The almonds were fresh and crispy and not one tasted rancid! I was very happy! I just placed my second order and really look forward to receiving them! Because of the issues with heavy metals in dark chocolate plus the refined sugar, The Conscious Bar is the only dark chocolate bars I now eat! The deep, rich flavor delights my taste buds combined with the velvety creaminess of the texture is soooo deeply satisfying!
The best bar none
The conscious bar is truly a delight. It is rich and full of natural flavor. I am spoiled now and don't think that I can ever return to regular chocolate.
Soft and crunchy
I'm a fan of this company. Behemoth I've got the Almond sea salt bar was a nice surprise. The chocolate is melting in your mouth to discover the crunchiness of the almonds. I love the light touch of salt too. Thank you great bar
What makes The Conscious Bar healthier than other chocolate?

We consciously created bean-to-bar chocolate using two superfoods – Organic Cacao & Organic Dates. We intentionally wanted to use a sweetener that is rich both in taste and nutrients to create a memorable, and guilt free experience.
What does Indulge Freely mean exactly?

If you've had one of our bars, you've noticed the words "indulge freely" printed into each chocolate square. We believe that these two words embody the essence of why The Conscious Bar was created to begin with. We wanted to create a delicious guilt free chocolate bar that would stand the tests of flavor, ethics & environmental responsibility. Rest assured that you can indeed indulge freely when biting into one of our bars.
What are the Health Benefits of Dark Chocolate?

We use premium organic ingredients in all the bars to bring forth rich, unmatched flavor. All The Conscious Bars have a minimum of 75% cacao solids. In many studies, the consumption of dark chocolate has been shown to lower blood pressure. Dark chocolate is rich in antioxidants (specifically cocoa polyphenols), which can help to combat free radicals - destructive molecules that are implicated in heart disease and other ailments.
Why do we use organic dates to sweeten our bars?

We decided to sweeten our chocolate bars with organic dates not only because of it's rich and delicious flavor, but also because of its magnificent nutritional value. Dates are stacked with fiber, antioxidants and minerals. Other benefits shown in studies claim that dates can contribute towards helping reduce inflammation, act as an energy booster & promote heart and brain health.